⭐ Microservice pattern is an architecture that functionally decomposes an application into a set of services. It doesn't say anything about size. Each service has focused, cohesive set of responsibility.
Characterstics of Microservice architecture
X, Y and Z-Axis Scalability of micro services (Michael Fisher's book - The Art of Scalability (Addison-Wesley, 2015) - Scale cube)
Microservices as a form of modularity
Each service has its own database
How is this different from Service oriented architecture (SOA)?
In SOA, smart pipes as Enterprise Services Bus (ESB) using heavyweight protocols like SOAP, while Microservices has Dumb pipes as a message broker, or direct service to service communication using REST or gRPC.
In SOA, data is global and shared, in MS database per service
SOA is a typical large monolith.
Benefits of Microservices
continuous delivery and deployment
small services easy to maintain
independently deployable
independently scalable
enables team to be autonomous
allows experimenting and adoption of new tech
better fault isolation
Challenges with Microservices
Finding right set of services
Distributed systems are complex, makes dev, test and deployment difficult
deploying fetures that span multiple services required carefult coordination
hard to know that when to adopt MS acrhitecture
When to use (or not use) Microservices
If it is working then don't change it
MS is not a silver bullet
Microservices Architecture Pattern Language
It is a collection of patterns that help you:
architect your application
decide whether to use microservice architecture or not
use it effectively by solving various architecture and design issues.
📚 Christopher Alexender - A Pattern Language: Town, Buildings, Construction
📚 Erich Gamma, Richard Helm, Ralf Johnson and John Vlissides - Design Patterns: Elements of Reusable Object Oriented Software
Design Patterns
A Pattern is reusable solution to a problem that occurs in a particular context. Any repetable Pattern must describe the context in which that pattern is useful.
A commonly used pattern structure includes three especially valuable sections:
Forces: What issues you must address when solving with the pattern
Resulting Context: The consequences of applying the pattern

Benefits: What issues (Forces) pattern is going to solve
Drawback: which existing issues (forces) pattern doesn't solve
Issues: if it introduces few more issues

Related Patterns:

Predecessor: Monolith architecture is predecessor of Microservices Architecture
Successor: A pattern which solves issues that has been introduced by current pattern
Alternative: A pattern that provides an alternative solution to this pattern. Like Microservice is alternative to Monolith.
Generaliztion: Any pattern which is a general solution to a common problem,
Specializaton: A pattern which solves a special problem. Like container patter is specialization of single service per host.
Patterns broadly can be divided into following three categories:
Infrastructure Patterns: solve problems that are mostly outside of development.
Application Infrastructure Patterns: Infrastructure issues that also impact development
Application Patterns: These solve problems faced by developers.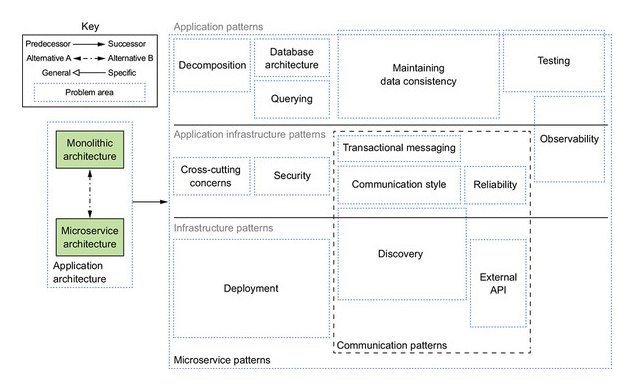 Main Groups of patterns
Decomposition Patterns

Decompose by business capability
Decompose by subdomain

Communication Patterns

Communication style
Discovery
Reliability
Transactional messaging
External API
Message prpcess gurantee

Data consistency Patterns for Transaction management

Patterns for querying the data in MS architecture (CQRS)

Service deployment patterns

Observability patterns provide insight into app behaviour

Health check API
Log aggregation
Distributed tracing
Exception tracking
Application metrics
Audit logging

Patterns for automated testing

Consumer-driven contract test: Verify that service meets expectations of its clients
consumer-side contract test: verify tat the client of a service can communicate with the service
Service componen test: test a service in isolation

Pattern for handling cross cutting concerns (database, Kafka related reusable concerns)

Security Patterns
Delivery Organization
📚 Fred Brooks: The Mythical Man-Month
Delivery Process
👉 Move fast without breaking things.
Deployment frequency
Lead time
Mean time to recover
Change failure rate
Human side
Ending, Losing and Letting Go
The Neutral zone
New beginning
---
---